DOWNLOAD PLASTI-FAB CASE STUDY
LEARN WHY PLASTI-FAB USES JET EDGE
INTENSIFIER PUMPS
Plasti-Fab found what they were looking for with Jet Edge. Now they are faster, taking on bigger projects, and floored with the results of their iP60-50 intensifier pump.
When Tualatin, Oregon-based Plasti-Fab, Inc., landed a contract to cut hundreds of circles out of 8,000-pound fiberglass plates, they decided abrasive waterjet would best complete the job. The company had to find two things: a waterjet manufacturer capable of building a 14' x 28' waterjet table, and a system that could be installed outdoors - their building already had two CNC routers and there was no space available. After researching several waterjet systems, only Jet Edge was capable of delivering the large system required.
Download this case study to learn why Plasti-Fab continues to use and trust Jet Edge Waterjet Systems and Intensifier Pumps to power their business.
Fill out the form on this page and hit the submit button and the case study will be emailed directly to your inbox.
---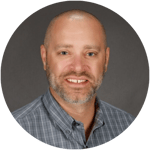 "Download this case study and learn how our waterjet cutter motion systems and waterjet pumps help Plasti-Fab reduce lead times and meet their customers demands."
Todd Eccless, VP of Sales, Jet Edge Waterjets