DOWNLOAD OUR MAX PRODUCTIVITY CASE STUDY
FILL OUT THE FORM TO DOWNLOAD THE CASE STUDY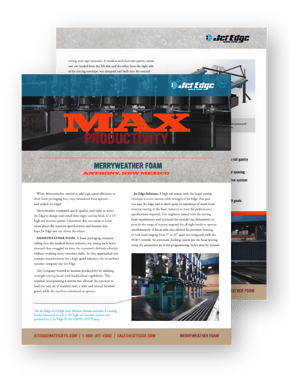 MERRYWEATHER FOAM, A foam packaging company selling into the medical device industry, was seeing such heavy demand they struggled to meet the customers delivery schedule without working heavy overtime shifts. So they approached two waterjet manufacturers for a high speed solution; the incumbent waterjet company and Jet Edge.
The Company wanted to increase productivity by utilizing multiple cutting heads with load/unload capabilities. This required incorporating a system that allowed the operator to load the next set of material onto a table and unload finished goods while the machine continued to operate.
Their 6-axis robotic waterjet trimming cell is armed with dual wall-mounted Motoman HP20D robots and Jet Edge's 60KSI (4100 bar) iP60-50 intensifier pumps. It leads the industry in precision and dependability with Motoman's +0.06 mm repeatability and Jet Edge's reliable tie-rod intensifier design. The cell's sturdy, compact frame design allows stability to both the tool and robots to ensure consistent tight part tolerances. The robotic waterjet trimming cell precisely cuts shaped parts with many angles from a wide variety of materials, including carpeting, fiberglass, foam, and plastic.
Fill out the form on this page and hit the submit button and the case study will be emailed directly to your inbox.
---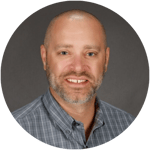 "Download this case study and learn how Jet Edge added high speed and efficiency to their foam packaging line with Jet Edge Waterjet and Pump technology."
Todd Eccless, VP of Sales, Jet Edge Waterjets