Aquablast is known for their dependability and minimal downtime. With the help of Jet Edge, they can add 'built to last' to their reputation.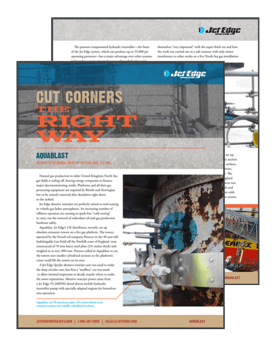 Aquablast, Jet Edge's UK distributor, recently cut up obsolete contractor towers on a live gas platform. The towers, operated by the french oil company Perenco in the 40 year-old Indefatigable Gas Field off the Norfolk coast of England, were constructed of 70mm heavy steel plate (2 ¾ inches thick) and weighed in at over 300 tons. Perenco called in Aquablast to cut the towers into smaller cylindrical sections so the platform's crane could lift the towers on its own.
Jet Edge abrasive waterjets are perfectly suited to steel-cutting in volatile gas-laden atmospheres. Download this case study to learn why Perenco called Aquablast to bring in their Jet Edge WaterJet Systems and Intensifier Pumps to carry out the removal of redundant oil and gas production hardware safely.
Fill out the form on this page and hit the submit button and the case study will be emailed directly to your inbox.