Alliance Automation knew that if their pump went down, their profits would go down with it. They decided to go with Jet Edge iP60-50 intensifier pumps for reliability and grit.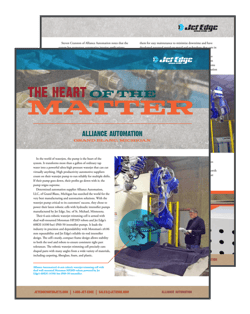 In the world of waterjets, the pump is the heart of the system. It transforms more than a gallon of ordinary tap water into a powerful ultra-high pressure waterjet that can cut virtually anything. High productivity automotive suppliers count on their waterjet pump to run reliably for multiple shifts. If their pump goes down, their profits go down with it; the pump reigns supreme.
Download this case study to learn why Alliance Automation, LLC, a automation supplier, decided use Jet Edge Intensifier Pumps to power their latest robotic cells.
Fill out the form on this page and hit the submit button and the case study will be emailed directly to your inbox.